Musical Star-Myu

Name
Musical「StarMyu」
Kanji
ミュージカル「スタミュ」
Staff
Original Plan
Hinata Rin
Staging
Yoshitani Kotaro
Screenplay
Owada Satoshi
Choreography
Tadako
Production
PARCO・Polygon Magic
Sponsors
Musical「StarMyu」Production Committee (Polygon Magic, PARCO, Sunrise Promotion Osaka, NBC Universal Entertainment), Zepp Blue Theater Roppongi Steering Committee
Performance Period
Start Date
1 April 2017 (Tokyo)
End Date
16 April 2017 (Osaka)
 
Musical 「StarMyu 」(ミュージカル「スタミュ」) or StarMu-Mu (スタミュミュ) is a musical based on the anime. It was announced on 4 November 2016 during AGF2016 and was performed from 1 to 9 April at Zepp Blue Theater Roppongi in Tokyo and on 15 and 16 April 2017 at Morinomiya Piloti Hall in Osaka.
The Blu-Ray and DVD of this musical was released on 6 September 2017.
During the event 「Star-Myu」Fes. 2017, a sequel was announced for July 2018.
A spin-off titled Musical「Star-Myu」Spin-Off Team Hiragi Solo Review Performance「Caribbean Groove」 was performed on 28 and 29 April 2018 at Maihama Amphitheater in Urayasu.
Team Otori
Edit
Team Hiragi
Edit
Kao Council
Edit
Sazanami Sakuya
---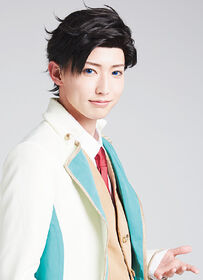 ---
TAKA
The timing of the performances is based on Japan's Time (GMT+9).
Tokyo Performance
Edit
| 4/1 | 4/2 | 4/3 | 4/4 | 4/5 | 4/6 | 4/7 | 4/8 | 4/9 |
| --- | --- | --- | --- | --- | --- | --- | --- | --- |
| Saturday | Sunday | Monday | Tuesday | Wednesday | Thursday | Friday | Saturday | Sunday |
| 13:00 | 13:00 | | | 14:00 | | | 13:00 | 11:30 |
| 18:00 | 18:00 | | 19:00 | 19:00 | | 19:00 | 18:00 | 16:30 |
Osaka Performance
Edit
| 4/15 | 4/16 |
| --- | --- |
| Saturday | Sunday |
| 13:00 | 12:00 |
| 18:00 | 17:00 |
External Links
Edit